الجزء الأول
---------------
-------------------------------------------------------------------------------------------
التحميـــــل
--------------
* يمكنك تحميل جزء من اي سيرفر و جزء ثاني من اي سيرفر آخر
____________________________________________
rapidshare
الجزء الأول -
[You must be registered and logged in to see this link.]
الجزء الثاني -
[You must be registered and logged in to see this link.]
الجزء الثالث -
[You must be registered and logged in to see this link.]
____________________________________________
mediafire
الجزء الأول -
[You must be registered and logged in to see this link.]
الجزء الثاني -
[You must be registered and logged in to see this link.]
الجزء الثالث -
[You must be registered and logged in to see this link.]
____________________________________________
ibox
الجزء الأول -
[You must be registered and logged in to see this link.]
الجزء الثاني -
[You must be registered and logged in to see this link.]
الجزء الثالث -
[You must be registered and logged in to see this link.]
____________________________________________
zshare
الجزء الأول -
[You must be registered and logged in to see this link.]
الجزء الثاني -
[You must be registered and logged in to see this link.]
الجزء الثالث -
[You must be registered and logged in to see this link.]
____________________________________________
fileflyer.com
الجزء الأول -
[You must be registered and logged in to see this link.]
الجزء الثاني -
[You must be registered and logged in to see this link.]
الجزء الثالث -
[You must be registered and logged in to see this link.]
____________________________________________
cocoshare.cc
الجزء الأول -
[You must be registered and logged in to see this link.]
الجزء الثاني -
[You must be registered and logged in to see this link.]
الجزء الثالث -
[You must be registered and logged in to see this link.]
____________________________________________
filesend
الجزء الأول -
[You must be registered and logged in to see this link.]
الجزء الثاني -
[You must be registered and logged in to see this link.]
الجزء الثالث -
[You must be registered and logged in to see this link.]
____________________________________________
sendspace
الجزء الأول -
[You must be registered and logged in to see this link.]
الجزء الثاني -
[You must be registered and logged in to see this link.]
الجزء الثالث -
[You must be registered and logged in to see this link.]
____________________________________________
badongo
الجزء الأول -
[You must be registered and logged in to see this link.]
الجزء الثاني -
[You must be registered and logged in to see this link.]
الجزء الثالث -
[You must be registered and logged in to see this link.]
____________________________________________
megaupload
الجزء الأول -
[You must be registered and logged in to see this link.]
الجزء الثاني -
[You must be registered and logged in to see this link.]
الجزء الثالث -
[You must be registered and logged in to see this link.]
------------------------------------------------------------------------------------------------------------
الجزء الثانى
----------------
------------------------------------------------------------------------------
التحميـــــل
--------------
* يمكنك تحميل جزء من اي سيرفر و جزء ثاني من اي سيرفر آخر
____________________________________________
rapidshare
الجزء الأول -
[You must be registered and logged in to see this link.]
الجزء الثاني -
[You must be registered and logged in to see this link.]
الجزء الثالث -
[You must be registered and logged in to see this link.]
____________________________________________
mediafire
الجزء الأول -
[You must be registered and logged in to see this link.]
الجزء الثاني -
[You must be registered and logged in to see this link.]
الجزء الثالث -
[You must be registered and logged in to see this link.]
____________________________________________
zshare
الجزء الأول -
[You must be registered and logged in to see this link.]
الجزء الثاني -
[You must be registered and logged in to see this link.]
الجزء الثالث -
[You must be registered and logged in to see this link.]
____________________________________________
filefactory
الجزء الأول -
[You must be registered and logged in to see this link.]
الجزء الثاني -
[You must be registered and logged in to see this link.]
الجزء الثالث -
[You must be registered and logged in to see this link.]
____________________________________________
cocoshare.cc
الجزء الأول -
[You must be registered and logged in to see this link.]
الجزء الثاني -
[You must be registered and logged in to see this link.]
الجزء الثالث -
[You must be registered and logged in to see this link.]
____________________________________________
bigshare
الجزء الأول -
[You must be registered and logged in to see this link.]
الجزء الثاني -
[You must be registered and logged in to see this link.]
الجزء الثالث -
[You must be registered and logged in to see this link.]
____________________________________________
filesend
الجزء الأول -
[You must be registered and logged in to see this link.]
الجزء الثاني -
[You must be registered and logged in to see this link.]
الجزء الثالث -
[You must be registered and logged in to see this link.]
____________________________________________
sendspace
الجزء الأول -
[You must be registered and logged in to see this link.]
الجزء الثاني -
[You must be registered and logged in to see this link.]
الجزء الثالث -
[You must be registered and logged in to see this link.]
____________________________________________
badongo
الجزء الأول -
[You must be registered and logged in to see this link.]
الجزء الثاني -
[You must be registered and logged in to see this link.]
الجزء الثالث -
[You must be registered and logged in to see this link.]
____________________________________________
megaupload
الجزء الأول -
[You must be registered and logged in to see this link.]
الجزء الثاني -
[You must be registered and logged in to see this link.]
الجزء الثالث -
[You must be registered and logged in to see this link.]
---------------------------------------------------------------------------------------------------
الجزء الثالث
----------------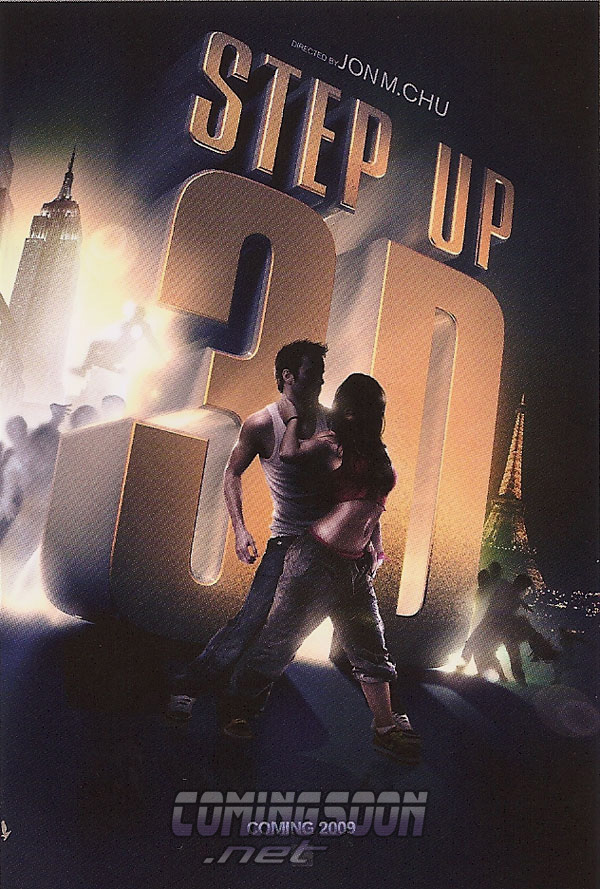 وهذة معلومات عن الفيلم
director : Jon M. Chu,
producer : Adam Shankman,
lead actors : Rick Malambri , Sharni Vinson, Adam Sevani, and Alyson Stoner
the movie filmed in New York this past summer
movie story
In theaters summer 2010, 'Step Up 3' goes global: The story follows a passionate, tight-knit group of street dancers (featuring Rick Malambri, Sharni Vinson, with the returning Adam Sevani and Alyson Stoner) who find themselves pitted against the world's best breakdancers in a high-stakes showdown. Can they beat the odds and step up to the top?
قصة الفيلم
القصة تدور حول المجموعة (( rick malberi ; sharni vinson ; مع عودة adam sevani و alyson stoner )) الشغوفة والمتعقلة برقص الbreak dance الذين يجدوا انفسهم في منافسة ضد أفضل راقصي البريك دانس في العالم .. فهل سيستطيعون الانتصار عليهم و الصعود الى القمة ؟؟
"This is the big, big final battle," says Sharni. "My trainer says that when you're working for the Olympics you don't work this hard."
تقول شارني " في المواجهة النهائية ،، قال مدربي اننا حينما نكون في الاولمبيات لا نبذل مثل هذا الجهد "
"There's 10 times more dancing than the last movie," says Adam.
يقول آدم " عدد الراقصين في الفيلم أكبر بعشر مرات من المرة الماضية "
"It adds another layer, another energy," agrees Alyson.
وتضيف أليسون " انه يضيف طبقة أخرى وطاقة جديدة "
Jon M. Chu, who made his feature directorial debut on the box-office hit 'Step Up 2: The Streets,' returns to direct, with authentic locations in Manhattan and Brooklyn.
"There's an epic amount of dancers on stage right now, just to fit them all in is craziness," says Jon about the day's big dance scene.
JON M . CHU بعد النجاح الكبير الذي حققه فيلم STEP UP 2 وظهوره في المراتب الاولى في صالات السينما يعود للاخراج في الأماكن التي بدأ منها رقص البريك مانهاتن وبروكلين .. يقول زدنا عدد الراقصين في المعركة الاخيرة فقط لنزيد من جنون وحماسة الرقص !!
The influence of Michael Jackson's moves and music is definitely not lost on this cast and crew Even today, before we started, everybody decided we're gonna do this for Michael,. WE think he'd be proud to see this going on in his honOR
يقول طاقم العمل أن مايكل جاكسون سيكون له أثره في هذا الفيلم وقد قررنا قبل أن نبدأ أننا سنعمل من أجله ولاحياء ذكراه وعلى شرفه .. << يا ربي قد ايش فرحانين فيه <<
--------------------------------------------------------------------------------------------------------
صور الممثلين
----------------------
RICK MALBERI
------------------------
---------------------------------------------------------------------------------------------------------------
ADAM SEVANI
-----------------
-------------------------------------------------------------------------------------------------------------
ALYSON STONER
----------------------
---------------------------------------------------------------------------------------------------------------
اعلان الفيلم حصريا:
[You must be registered and logged in to see this link.]
ان شاء الله راح انزل روابط تحميل الفيلم قريبا على هذا الموضوع